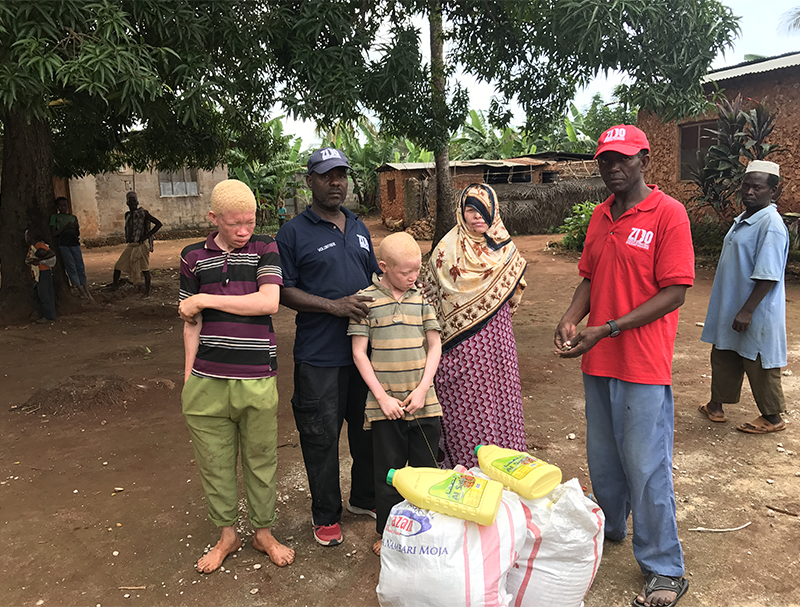 Albinism
Luncheon for the Albinos of Zanzibar
http://www.youtube.com/watch?v=iLUa_jju4sM
Albinism is a genetically inherited disorder that makes affected individuals unable to produce melanin, the natural pigment that gives colour to hair, skin, and eyes, and protects against the harmful effects of UV radiation making them susceptible skin cancers.
The albinos are almost always colour blind and need to stay indoors away from the sun.
The average life span of an albino is unfortunately 30 and most of them will die from skin cancer.
There is no effective therapy other than total avoidance of direct sunlight from early childhood.
People with albinism experience major challenges in integration due to ancient beliefs assigning them supposedly magical powers
How we Help
We have adopted more than 100 families who suffer from albinism and the numbers are growing each month as more albinos become aware of our presence and contact us. Also, our head volunteer Hamisi goes into remote areas and villages looking for albinos as they tend to be shy, and remain indoors most of the time.  We encourage parents of albinos to attend gatherings made especially for them and to bring their children and babies so they can meet, interact and provide support to each other thus making their lives a little bit better and easier.
We provide them with hats, sunglasses, sunscreen lotions, umbrellas to protect them from the direct intense equator sun.
In addition to regular assistance with basic food items, we proved each family with female goats that they can raise and sell the off springs for a profit.